Sustainable Engineering Training Academy
CALTAP, in partnership with the Center for Energy & Environmental Engineering & Services (CEERS), has established the Sustainable Engineering Training Academy (SETA) to provide transportation and construction engineering communities with module-based training in the areas of green buildings, environmental impacts of construction and mitigations, and structural health monitoring systems. Each area constitutes several tentative training modules.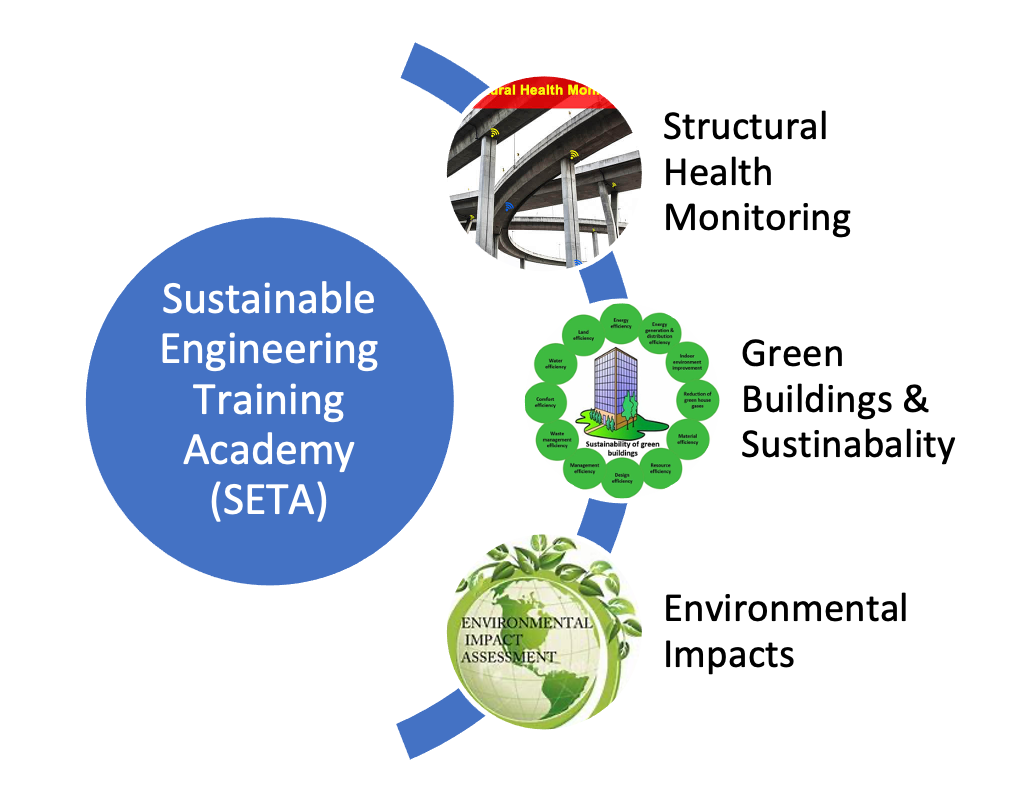 Among major emerging state investments in clean energy and transportation are building decarbonization and the decarbonization of industrial sectors. Investments in workforce development, including training on methods for reducing the carbon footprint of construction and buildings, contribute to the state goal of net-zero operation in the near future.
SETA is designed to meet the unique training needs of the Engineering and Transportation community at various stages of their careers in these ever-growing technical fields. Taught by industry and academic experts, participants gain practical knowledge in specific demanding areas of their industry for career enhancements and improvements.
The training classes and modules have been designed to meet the emerging and future needs of the industry with a focus on practical applications, critical thinking, and innovation. The classes also allow professional networking opportunities to meet individuals from different segments of the supply chain.

Learn at Your Convenience
Classes are offered asynchronously online with synchronous discussions and Q&A sessions.
Classes are offered at least twice per year.
Courses may be taken in any order.
You earn a certificate upon completion of all three classes.


This Program is Ideal For
Anyone involved in the goods movement industry, as either a service provider or service user, includes the public and private sectors.
Anyone looking for an exciting career opportunity in an industry of vital importance to the local, regional, state, and national economy.
Anyone doing business (contracting) with state and federal agencies with a focus on sustainability and infrastructure development and maintenance.


Features & Benefits
Timely and industry-relevant curriculum encompassing Sustainability & Technology.
Curriculum taught by academic and industry experts and designed to enhance opportunities for entry or advancement in the industry.
Networking opportunities with industry leaders.
Convenient scheduling for working professionals.
Access to an extensive alumni network.
A completion certificate acknowledging your level of training attainment.


In This Program, You Will Learn
Elements of climate change and contributions of construction projects to the climate change.
The primary and secondary air pollutants, the impact of construction projects on biodiversity, and how noise and vibration from construction impact the echo system.
Overview of carbon footprint (CF) and how to calculate CF for a construction project to learn how to use CalEEMod program to calculate the environmental impact of a construction project.
Elements of a Green Building and certification process.
Different structural health monitoring systems and applications in construction projects.


SETA Training Modules
Complete three courses required for the program.

CEERS 400 – Sustainable Construction
CEERS 401 – Green Buildings
CEERS 402 - Structural Health Monitoring

Complete all program requirements within two years