Posted: 8/21/2023
The Transportation Research Board's (TRB) Behavioral Traffic Safety Cooperative Research Program (BTSCRP) has released Research Report 8: Highway Safety Behavioral Strategies for Rural & Tribal Areas.
Roadway fatalities and serious injuries are a significant public health concern in rural and tribal settings. While rural areas only account for about 30% of total U.S. vehicle miles traveled and less than 20% of the U.S. population, half of all traffic fatalities occur in rural areas. Despite the clear need to improve traffic safety in these areas, numerous constraints and resource limitations hinder safety efforts.
Creating a coalition of interested individuals is part of the Safe System Approach that addresses the high rates of these fatalities and serious injuries. Research Report 8 details this approach, which includes strategies for safer people, safer roads, safer vehicles, safer speeds, and post-crash care.
This report will interest state highway safety offices, state and local DOTs, county departments of public works, tribal authorities, and other stakeholders concerned with improving traffic safety in rural areas.
You can access the full report here.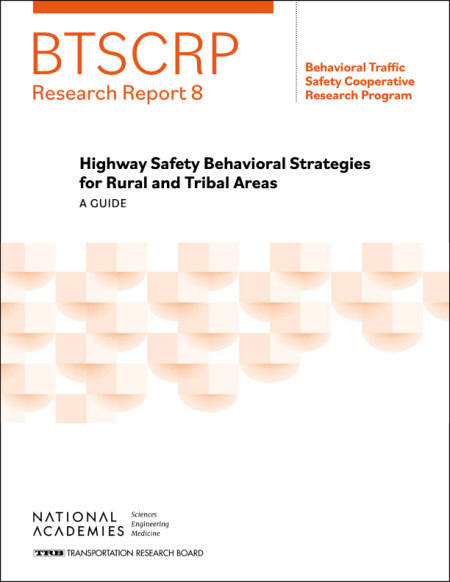 What is the BTSCRP?
The Behavioral Traffic Safety Cooperative Research Program provides a forum for coordinated and collaborative research to address issues integral to the Governors Highway Safety Association, the National Highway Traffic Safety Administration, and traffic safety professionals at all levels of government and the private sector.
BTSCRP provides practical, ready-to-implement solutions to save lives, prevent injuries, and reduce costs of road traffic crashes associated with unsafe behaviors.
BTSCRP is a partnership between GHSA, NHTSA, and TRB.