Posted: 5/16/2023
As part of April's 2023 Western NLTAPA Meeting, Karen Awana (Program Associate, NDPTC & HI LTAP) shared the mission and scope of the National Disaster Preparedness Training Center (NDPTC) along with how relevant the Center's trainings have become in this new era of national weather extremes.

As a member of the National Domestic Preparedness Consortium (NDPC), the NDPTC is authorized to develop and deliver training and educational programs related to homeland security and disaster management, with a specific focus on natural hazards, coastal communities, and the special needs and opportunities of islands and territories. The NDPTC actively engages with FEMA, the University of Hawai'i, and external partners across the region to integrate the delivery of its trainings, products, and services.
NDPTC's vision is to be the premier, trusted provider of risk-based natural hazards training focused on underserved, vulnerable populations living in hazardous, coastal, and island communities. The Center works collaboratively to develop and deliver training and education on disaster preparedness, response, and recovery to governmental, tribal, territorial, non-profit, and private partners integrating land use, infrastructure, urban planning, environmental management, and emerging technologies to build and sustain resilient communities.
While NDPTC provides instructor-led trainings across the nation to first responders, emergency managers, volunteers, public and private organizations, and the community, they've also been expanding their E-learning catalog to offer a more convenient way to access and complete educational trainings. These web-based courses are designed to be dynamic and interactive to help participants engage with the curriculum while their easy-to-use menus offer the freedom to move through content at each learner's individual pace.
Check-out NDPTC's E-learning course catalog for training that best aligns with your agency's specific needs.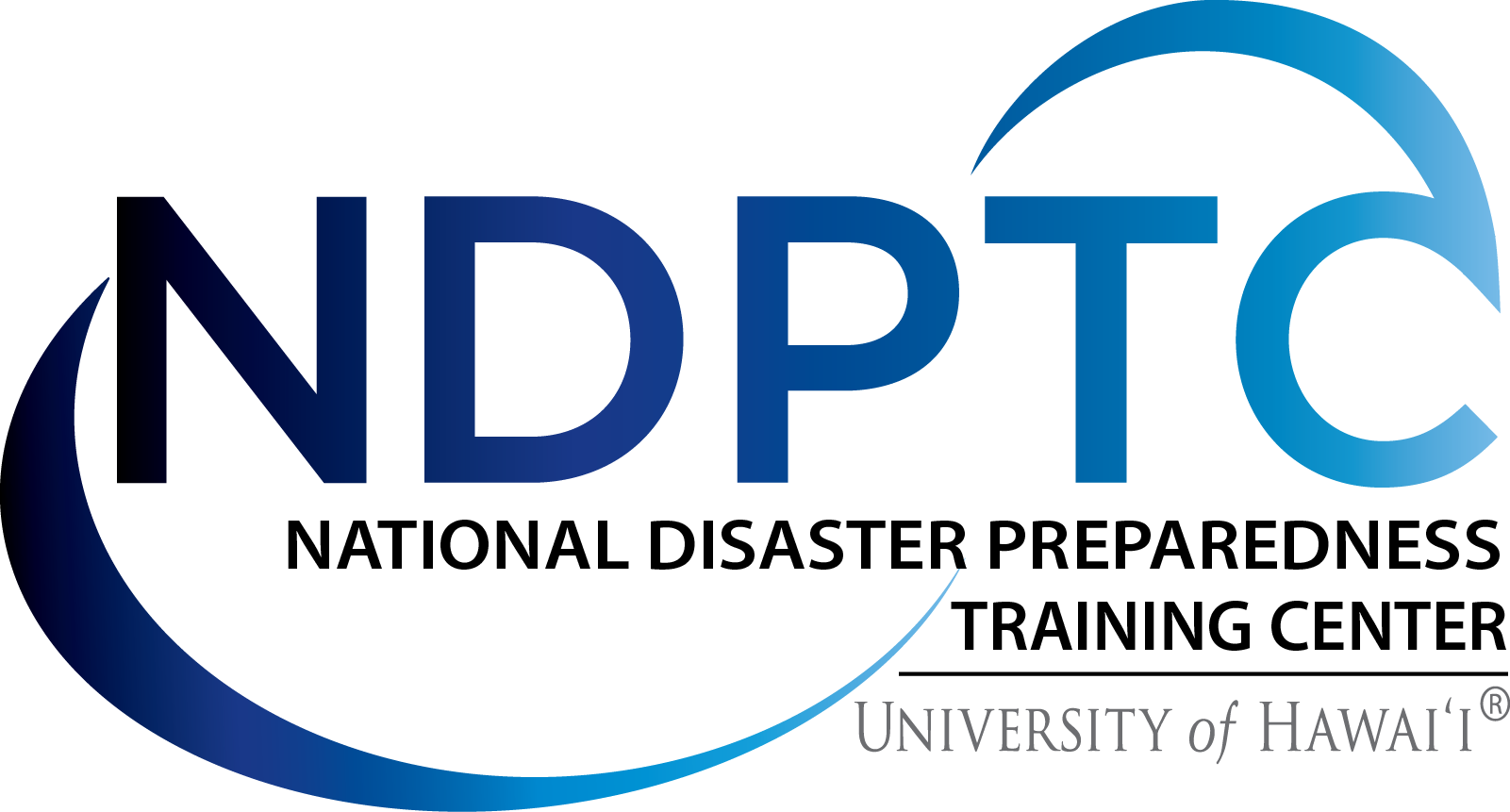 Who is the NDPC?
The National Domestic Preparedness Consortium (NDPC) is funded by Congress to enhance the preparedness of federal, state, local, territorial and tribal emergency responders/first receivers and teams, including non-governmental organizations and the private sector, to reduce the Nation's vulnerability to incidents involving weapons of mass destruction, terrorism, and all-hazard high-consequence events by developing, delivering, and assessing plans, training, technical assistance, and exercises.
In 2007, this mission was expanded to address all-hazards capabilities by the addition of the University of Hawai`i.
Today, the NDPC consists of seven member organizations, including the Center for Domestic Preparedness (CDP), the New Mexico Institute of Mining & Technology (NMT), the National Center for Biomedical Research & Training / Academy of Counter-Terrorist Education (NCBRT/ACE), the National Emergency Response & Recovery Training Center (NERRTC), the Nevada National Security Site (NNSS), the Transportation Technology Center, Inc. (TTCI), and the National Disaster Preparedness Training Center (NDPTC).
General inquiries to the NDPC can be sent here, or a full catalog of available training courses can be found here.