Posted: 10/31/2023
WEBINAR: November 20, 2023, 12:00PM - 1:30PM PT [CLOSED]
USDOT is now taking applications for the Accelerated Innovation Deployment (AID) Demonstration Program which provides funds for innovative transportation technologies.
The AID Demonstration Program provides grants and other resources to offset the risk of implementing a transportation innovation. The incentive funding allows state DOTs, local governments, and other entities to accelerate the adoption of innovation in highway transportation and demonstrate state-of-the-art technologies.
AID Demonstration funds can be used in any phase of a highway transportation project between project planning and project delivery, including planning, finance, operation, structures, materials, pavements, environment, and construction.
Since its launch in February 2014, FHWA has awarded over $95.7M for 127 grants to help agencies speed up their use of innovative practices, tools, and technologies, including those supported under their Every Day Counts (EDC) program.


Register to attend this free info session on the AID Demonstration Program, its multi-year NOFO, and an overview of the NOFO for this 2023 application cycle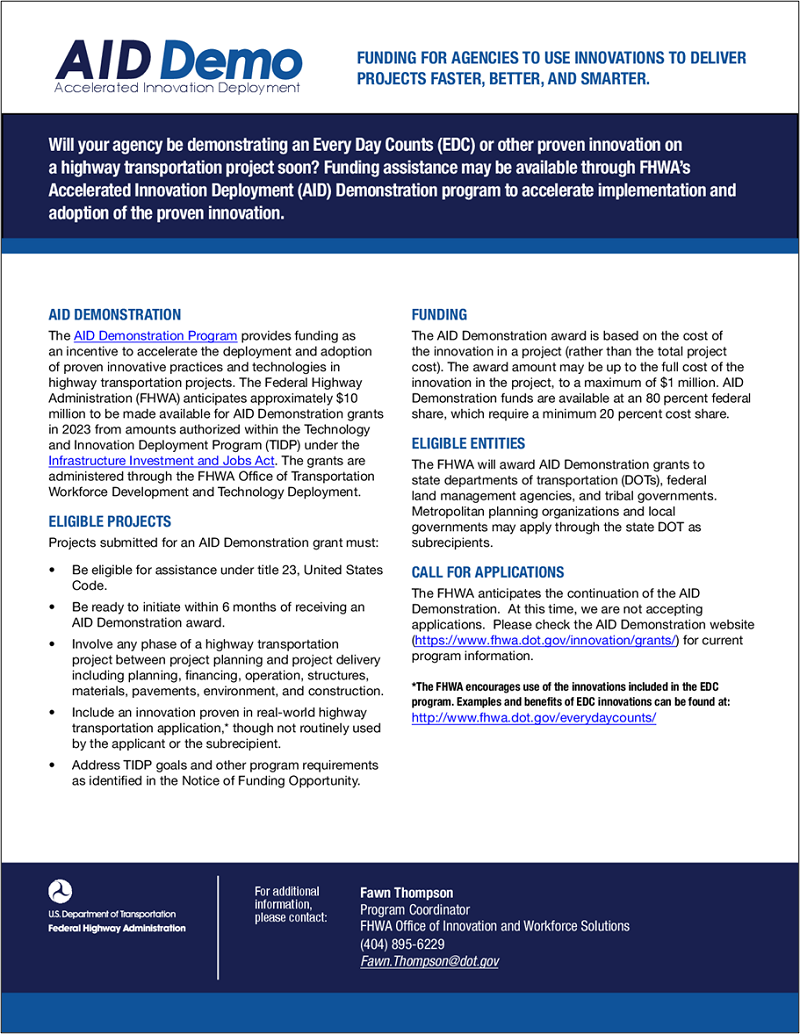 Every Day Counts
Every Day Counts (EDC) is a state-based model that identifies and rapidly deploys proven yet underutilized innovations that make our transportation system adaptable, sustainable, and safer for all.
FHWA works with state DOTs, local governments, tribes, private industry and other stakeholders to identify new innovations to champion every two years that merit accelerated deployment.
The EDC initiative is currently in its 7th round (EDC-7).